Your guesthouse at the entrance to the Puster Valley
Cosiness & comfort are at your disposal
We think about you first. Forget about your everyday life and relax in the quiet, idyllic surroundings of the Pfunder Valley – one of the most genuine valleys in South Tyrol. Our guesthouse avails of 14 rooms. All come with a shower, WC, hairdryer, Sat-TV, safe and balcony.
Single rooms: 12 to 15 m² – two of which are without a balcony.
Double rooms: 18 – 25 m²
Family rooms: 35 m²
All prices are per person for a minimum stay of 3 days,
including breakfast buffet and dinner with 4-course choice menu.
| Period | Double room |
| --- | --- |
| 27.05.2023 - 29.07.2023 | 59,00 € |
| 29.07.2023 - 26.08.2023 | 63,00 € |
| 26.08.2023 - 15.10.2023 | 59,00 € |
Terms and Conditions
Prices:
Prices are per person per night "half board" for 3 nights or more. (breakfast and 4 course evening menu of your choice)
Stay < 3 nights: + 5,00 € / day
Single room: + 5,00 € / day
Double room as single room: +15,00 € / day
Special weekly offers are half board per person for a minimum of 7 nights. (breakfast and 4 course evening menu of your choice)
For not taken meals, unfortunately, no discount can be garanted.
Persons aged 14 years and over will have to pay a tourist tax of 1,90 € per person and night. This fee is not included in the total price of your stay. It is only payable on departure.
including Gitschberg Jochtal Almencard.
Child discounts
< 2 years: free of charge
< 5 years: 70% reduction
< 8 years: 50% reduction
< 12 years: 30% reduction
≥ 12 years: 10% reduction
Children's prices apply for children sharing a room with two full paying adults.
Rooms:
All rooms are comfortable, friendly and furnished homely. All come with a shower, WC, hairdryer, sat-TV, safe and balcony (except for 2 single rooms).
Free WLAN all around the house.
Rooms are available on day of arrival from 2.00 pm onwards.
Guests are kindly requested to vacate their rooms on day of departure by 10.00 am.
In case of arrival after 7.00 pm please inform us by phone.
Unfortunately, it is not possible to confirm certain room numbers. Nonetheless, we will do our best to comply with your wishes.
Reservations must be made in writing. (email, letter or fax)
Our Pension is non-smoking. Please smoke on the balcony or outdoors.
With us you will enjoy inclusive...
Extensive breakfast buffet with everything you could wish for. Scrambled eggs etc will be prepared fresh and free of charge.
4 course evening menu of your choice. In our guesthouse, the proprietor is also our best chef! During the summer, we organise a special BBQ once a week. During the winter, he spoils you a Törggele evening with live music.
Personal attention guaranteed by the Hofer Schlechtleitner family.
The Almencard Gitschberg Jochtal offers you numerous inclusive services, reductions and in particular a varied kid's programme. The card also enables you to use public transport free of charge, as well as entry into more than 90 museums and other destinations.
If you choose to arrive by train, we will pick you up in Vandoies/Vintl.
Equipment in the house: Children's playroom, outdoor playground nearby, reading corner with hiking literature, sitting room.
Free WLAN all around the house.
The Gitschberg Jochtal Almencard
Free for our guests!
With many advantages.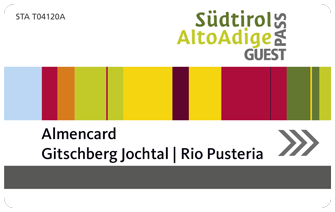 The Gitschberg Jochtal Almencard
One card for countless experiences – with the Gitschberg Jochtal Almencard, you can travel for free on public transport across South Tyrol, enjoy free admittance to over 90 museums and ride for free on the Gitschberg and Jochtal cable cars in selected periods.
Use the Gitschberg Jochtal Almencard to:
Travel for free on the Berg-Nesselbahn cable car on Mt. Gitschberg in Meransen and on the Jochtal cable car in Vals, from 13 May to 7 July 2023 and from 18 September to 4 November 2023
Travel for free on public transport across South Tyrol
Visit over 90 museum and exhibitions in South Tyrol for free
Get free rides on the Almbus shuttle bus to the Rodenecker-Lüsner Alp
Use the ski bus service for free in winter
Participate in an exciting activity programme
Enjoy special discounts at partner establishments
Terms of payment
You are welcome to pay by cash (until 4.999,99 Euro) or credit card (Visa, Eurocard, Mastercard).
Cancellation
Cancellation conditions according to Art. 1382 Civil Code
Cancellations are annoying for both sides. We understand that it may happen that you cannot start your holiday.
We ask you to inform us of this in good time.
Cancellations are only accepted in writing!
According to the Italian Consumer Protection Code, there is no right of withdrawal. However, we grant you the right to withdraw according to following cancellation conditions as defined in art. 1382 (Civil Code):
Cancellations up to 1 month before the start of the stay are free of charge.
In the event of cancellation from 30 days to 14 days before the start of the stay, 60% of the booked travel price will be charged.
In the event of cancellation 14 days before the date of arrival, 80% of the booked price will be charged.
In case of late arrival or early departure we charge 100% of the daily rate according to the reservation confirmation for the days not enjoyed.
It is recommended to take out travel cancellation insurance.
Cancellation insurance
Dear guest, what if something comes up?
We look forward to welcoming you. Nevertheless, we recommend that you take out "cancellation protection" as soon as you book your stay.
This will cover the cancellation fees and you can look forward to your holiday without any worries. You can find more information on the costs and conclusion of the "European Cancellation Insurance" here.
Exlusion of liability
We strive to provide accurate and complete information on this website. However, we assume no liability or guarantee for the topicality, correctness and completeness of the information provided. We reserve the right to make changes without notice or to amend the information. Only the specific service offer or the booking confirmation is binding. For external links we can – despite careful control – assume no liability. For the content of linked pages exclusively their operators are responsible.
Data protection
For the purposes of the GDPR, we inform you that your data will be used and saved exclusively for processing your application and will not be disclosed or distributed to third parties. Regarding data processing, you are entitled to all rights according to the GDPR. The holder of the rights is Elisabeth Hofer – For more information about your rights, please visit here.
Please note
We specifically refer to the legal provisions Art. 45-67 of the Italian Consumer Protection Code 206/2005.